Bricklok Midget Rec Tournament
Friday, January 3, 2020 to Sunday, January 5, 2020
---
Bricklok 2020 Tournament Results

Thank you to all the teams that attended the Bricklok 2020 Midget tournament, we hope to see you all again next year.
Thank you to all the JDF referees and volunteers that helped make our tournament a success. A special thanks to Corrina Taylor our tournament coordinator.
Thank you to all the parents for taking time out of your busy schedules to bring your players to our tournament.

The final game between the Semiahmoo Ravens and Surrey Thunder was an amazing game to watch, a clean and hard fought battle by both teams. The game was tied 3 - 3 at the end of the second period, and was eventually won by Surrey Thunder by a score of 5 - 3.
Semiahmoo Ravens - Silver Medal Winners
Surrey Thunder - Gold Medal Winners
Congratulations to Surrey Thunder for winning the 2020 Bricklok Midget tournament!



To apply, please return to the JDFMHA Main Tournament Page.
Bricklok Rules:
Division(s):
Midget Recreation
Games: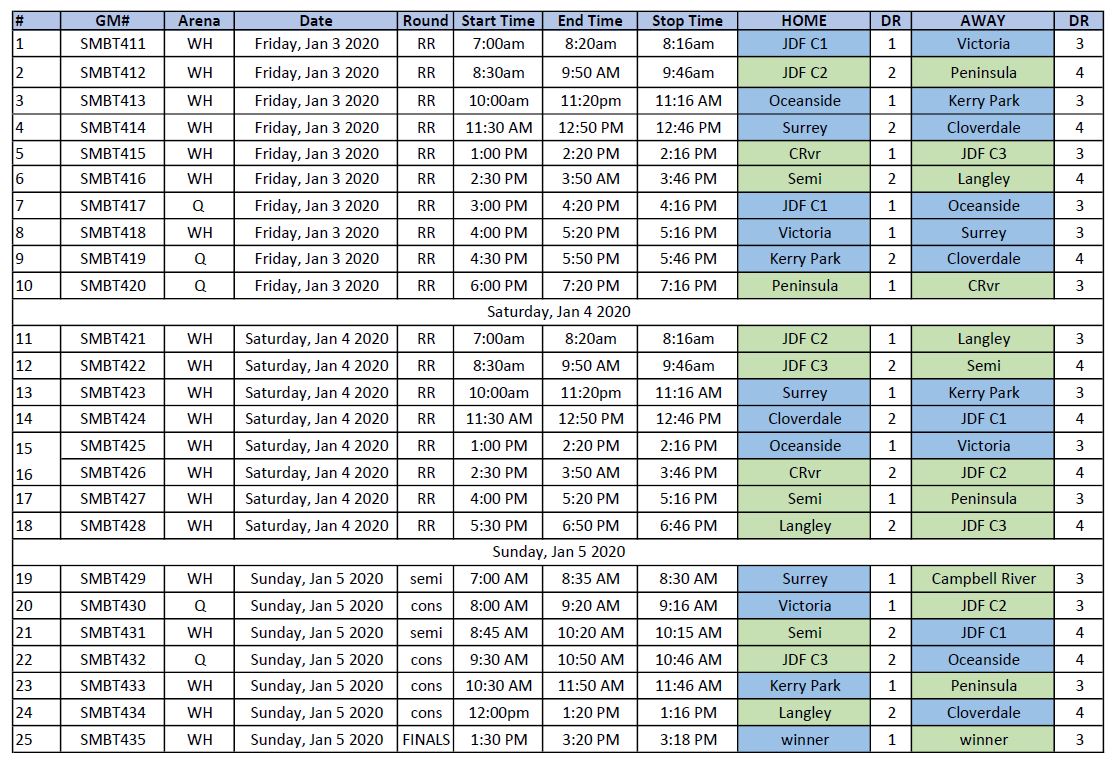 Game Results: (Updated Jan 4 at 7:40 PM)
Midget Group A - Blue
| | | | | | | | | | | |
| --- | --- | --- | --- | --- | --- | --- | --- | --- | --- | --- |
| | WIN | LOSS | TIE | SO | P | GA | GF | +/- | PM | RANK |
| JDF C1 | 3 | | | | 9 | 9 | 23 | 14 | 18 | 2nd |
| | | | | | | | | | | |
| Victoria | | 3 | | | 3 | 29 | 4 | -25 | 26 | 6th |
| | | | | | | | | | | |
| Oceanside | 2 | 1 | | 1 | 7.5 | 7 | 17 | 10 | 22 | 3rd |
| | | | | | | | | | | |
| Kerry Park | | 3 | | | 3 | 16 | 4 | -12 | 22 | 5th *GA |
| | | | | | | | | | | |
| Surrey | 3 | | | 2 | 10 | 1 | 23 | 22 | 16 | 1st |
| | | | | | | | | | | |
| Cloverdale | 1 | 2 | | | 5 | 18 | 9 | -9 | 18 | 4th |
| | | | | | | | | | | |
Midget Group B - Green
| | | | | | | | | | | |
| --- | --- | --- | --- | --- | --- | --- | --- | --- | --- | --- |
| | WIN | LOSS | TIE | SO | P | GA | GF | +/- | PM | RANK |
| JDF C2 | | 2 | 1 | | 3 | 10 | 5 | -5 | 30 | 6th |
| | | | | | | | | | | |
| Peninsula | | 2 | 1 | | 4 | 7 | 3 | -4 | 16 | 5th |
| | | | | | | | | | | |
| Campbell River | 3 | | | | 9 | 5 | 13 | 8 | 16 | 2nd |
| | | | | | | | | | | |
| JDF C3 | 1 | 2 | | | 5 | 13 | 11 | -2 | 36 | 3rd |
| | | | | | | | | | | |
| Semi | 3 | | | 2 | 9 | 2 | 16 | 14 | 40 | 1st *GA |
| | | | | | | | | | | |
| Langley | 1 | 2 | | | 4 | 19 | 8 | -11 | 46 | 4th Wins |
| | | | | | | | | | | |
Tier(s):
Recreation
Tournament Contact:
Corrina Taylor
Email:
50/50 WINNING TICKET NUMBERS: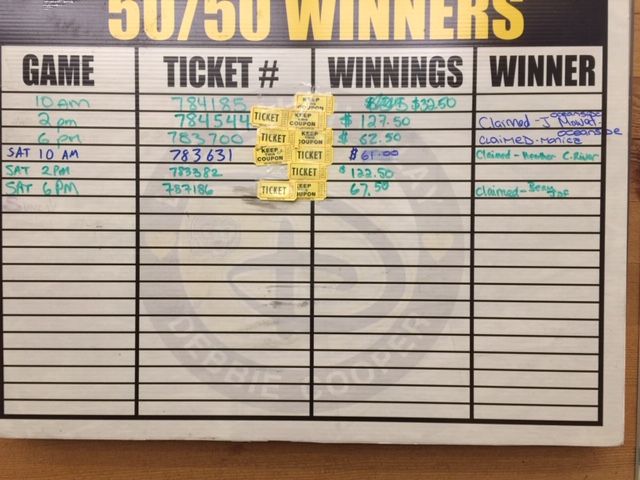 ---
Accommodations
The following hotels are recommended for teams attending our tournament:

Four Points Sheraton Victoria Gateway
829 McCallum Rd, Victoria, BC V9B 6W6
http://www.fourpointsvictoriagateway.com
Contact: Steven Baxter
Email: sbaxter@fourpointsvictoriagateway.com

Sandman Inn
2852 Douglas St, Victoria BC V8T 4M5
www.sandmanhotels.ca
Phone: (250) 388-0788 ext 7103